The sun beat down relentlessly on Cambridge Folk Festival this year, which continued its tradition of stretching the definition of folk in all directions and bringing together a wide variety of musicians from across the globe. Running over four days there really is something for just about everyone at the festival – unless you've got a real aversion to string instruments of any kind.
Arriving late on Friday afternoon I missed the National Youth Folk Ensemble, a 17-strong group of young people who have been practising and playing together for the last year and who opened up proceedings on the main stage with a set of their own arrangements. Fellow festival attendees assured me they delivered a great performance and you can read an interview with two of the members of the group and musical director and folk hero Sam Sweeney below. I did manage to catch a stirring performance by Eliza Carthy and the Wayward Band, a 12-piece group led by the Yorkshire-born folk singer who looked warrior-like in her red dress with a painted stripe across her face. And I certainly didn't miss the headline act of the night, Swedish sisters Klara and Johanna Söderberg, better known as First Aid Kit. They came on stage to synth chords and bass beats, and delivered a varied and playful set of that included a heart-swooning homage to Kate Bush, Running Up That Hill. There was also a new song that was much harder than anything they've played before, You Are the Problem Here – their "punk song" they later explained, had been born from their anger at the way victims of sexual violence are often questioned more than the perpetrators.
With a 14,000 capacity in the generous spaces within the Cherry Hinton Park estate, it still feels like a relatively intimate affair
I ended Friday at stage two, my favourite of the four spaces, where chances are you will often catch a band you've never really heard of but come to love. So it was that night, where the large crowd was treated to The Pierce Brothers, another sibling pair, this time from Australia, who managed to make a terrific amount of sound between the them, one mainly on guitar, the other on drums, though they also played the harmonica and – yes, they are Australian after all – a didgeridoo. It was fun, bouncy and at times political (their song Take A Shot was "about a bully" and aimed squarely at Trump).
Saturday was busy of course. But with a 14,000 capacity in the generous spaces within the Cherry Hinton Park estate, it still feels like a relatively intimate affair with plenty of space, although I did find myself having to fight my way down the pathways that criss-cross through the sea of deckchairs and picnic blankets that fill the main arena area during the day (I swear some of those people, with their cool boxes and crossword puzzles, didn't move all weekend).
Some practicalities. Most importantly, the loos are brilliant. Big Portacabins with proper flushing loos inside and not an airless, stinky Portaloo in sight. The two spacious bars are well stocked with local ale at a reasonable price and there's a good range of food vendors, many selling local produce. Camping facilities are also good. There are two campsites – one in the festival area itself, which means you have access to the morning workshops that take place in the more tranquil areas of the park, such as drawing, willow weaving, Tai Chi and yoga. Or there's a larger camping area on nearby Coldham's Common, which has its own mini-stage and a huge range of family-friendly activities. Or, if you're like me and the thought of festival camping even in surroundings as lovely as Cherry Hinton Park brings you out in a cold sweat, the city centre is an easy, flat 45 minute walk away, where there are plenty of hotels and the great value rooms available in the many university campuses. There are also buses to and from the city, but having spent more than 30 minutes being lied to by the digital information screen at the bus stop I learned it was easier and often quicker to walk.
Back to the music and, on Saturday's main stage, Boston-based four-piece Darlingside clustered around one microphone for most of their performance to create beautiful harmonies in a performance that didn't really take off into anything other than, well, beautiful harmonies. Patti Smith gave a brilliant, but what I imagine is a characteristically bizarre performance, lapsing at one point into singing We Three Kings of Orient Are – part of an arrangement she'd come up with that day, having been inspired by a painting she'd seen at King's College (someone from the city groaned next to me and muttered "typical tourist").
On stage two, there was some dancing to be had with Darren Eedens and the Slim Pickins (lots of frenetic banjo playing), followed by Irish Mythen, a short and stocky, Irish-born singer-songwriter who now lives in Canada. He delivered a set full of cheeky wit and stirring songs. Later on, Manchester band Honeyfeet played a fun, captivating set that blended blues, soul, folk and much more.
This slideshow requires JavaScript.
There's a real appreciation for the music at Cambridge, which you don't always get at other festivals. Dare to talk near the stages during a performance and you're likely to get a cold hard stare from people nearby and then told to shush if you persist. This was really evident when Janis Ian took to the stage on Sunday afternoon where the packed crowd in the main tent hung off her every word. I had drifted past hoping to catch the only song of hers I knew well, Seventeen, but was quickly captivated by both her witty, interesting stories about her career and personal life (a great one about trying to buy wedding dresses with her soon-to-be wife in a southern state of America was hilarious), and by the singing voice of a 67-year-old woman clearly still very much in her prime.
Rusby was in perfect voice and clearly having fun, although the relentless references to her Yorkshireness did get a little wearisome
Another great discovery was All Our Exes Live In Texas, a quarter of Australian women who delivered a funny, well put together set on the main stage on Sunday. Super talented and personable, they made you feel like you were sat in a bar with them, having a chat and listening to their songs, which were mainly about ex-boyfriends, who, they admitted, didn't actually live in Texas. "But it sounds better than all our exes live in Sydney," they explained.
Cambridge repeater Kate Rusby turned up with a stage full of musicians and other artists including the brilliant Eddi Reader, who contributed to a few numbers and delivered a solid traditional Scottish folk song of her own. Rusby herself was in perfect voice and clearly having fun, although the relentless references to her Yorkshireness did get a little wearisome. "Let's play this in B-flat cap," she said. For the second time. Really, Kate? You're not the only northerner here you know. Please stop.
While things came to a close with a dance-off with the Peatbog Faeries on the main stage (their frantic Celtic beats could be heard echoing across the festival site) and the wonderful voice of Beth Neilsen Chapman on stage two, the absolute highlight of the day, possibly even of the festival, was found around at the club tent. This is where the hardcore folkies usually gather to hear local folk club acts and more traditional music is played, but on Sunday night a huge crowd gathered see American musician Rhiannon Giddens bring things to a terrific close. Giddens, a supremely talented singer, banjo and fiddle player, had headlined the main stage the night before and also guest-curated some of the festival. On Sunday night she came on stage with some of the performers she had invited along to take part in the festival, including Yola Carter, Birds of Chicago and Amythyst Kiah. The amount of talent on show in one small space was awe-inspiring, each musician taking turns to do their own songs and some classics (Amythyst Kiah's rendition of Dolly Parton's Jolene was a person favourite), and the whole thing ended with all the musicians, led by Giddens, in a song about personal and political resistance that had people punching the air by the end, chanting: "We will vote!"
Cambridge once again delivered a great weekend then, diverse and surprising, with some moments that will stay in my mind for a long time. Patti Smith's opening line "Can we turn off the smoke machine? I'm not fucking Metallica," was a particular favourite. For people who want more from their festivals than cheap lager and big dance tents full of pretty young things, I reckon Cambridge Folk Festival stands out as one of the most interesting and varied music events of the year. See you next year, Cambridge.
Main image: First Aid Kit on stage, Friday night. Photo Ollie Millington
---
Festival interview: National Youth Folk Ensemble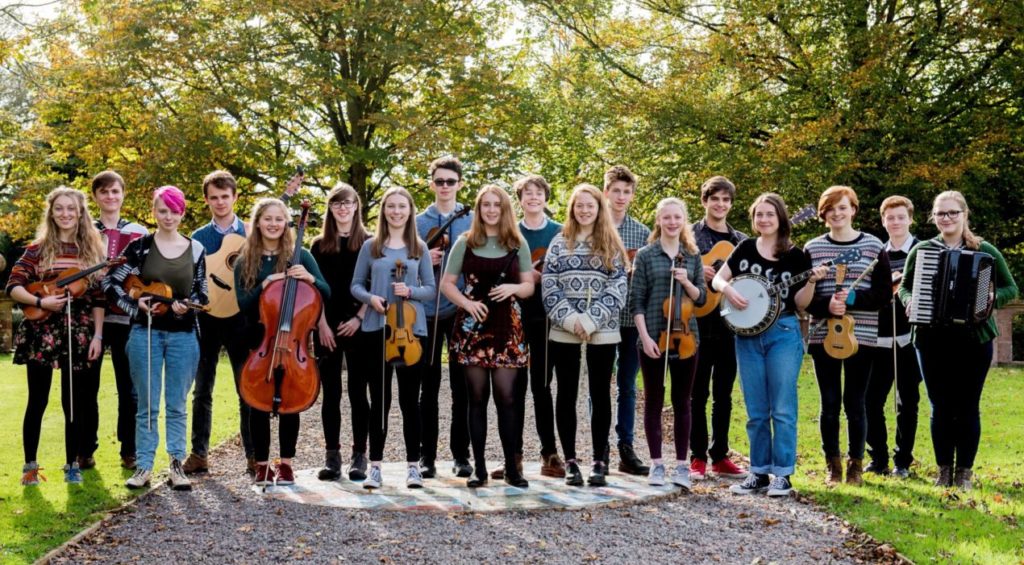 Founded in 2016 by the English Folk Dance and Song Society, the National Youth Folk Ensemble selects young musicians from across England to meet four times a year for intensive residential courses and perform around the country. This year they opened Cambridge Folk Festival's main stage on Friday afternoon and afterwards Big Issue North caught up with two members from the north of England, Maddie Edgoose and Alex Lord, who are both 18 and play the fiddle. We were joined by folk musician Sam Sweeney, former member of the band Bellowhead, who is currently musical director of the ensemble.
How did you get into folk music?
Maddie: I started off with classical music at school for about two years. I did classical music by ear, which makes the route into folk music quite easy because it's very oral. There is a lot of folk music in Newcastle and so you hear it around and my mum plays a bit as well.
Alex: I also started off with classical at school for about two years. I was forced into it and I got really bored of it, I didn't enjoy it at all. And then I discovered that my uncle was a folk musician in Devon…
Sam: … a very famous musician…
Alex: I thought he was a rock star at first. I didn't realise it was folk. He's Phil Beer from the band Show of Hands. That inspired me.
And why did you join the Ensemble?
Maddie: I had Sam as a tutor at a Folk Quake summer school one year and my mum also has connections to the group so I got told about it by various people. I went to a sample day and I got a second audition, thankfully. I did a lot of music from Northumberland, but playing music with people from a lot of different areas, that was a completely new thing. And playing music with a group of young people who have been selected as some of the best young English folk musicians in the country, that was a really cool idea and I wanted to be part of it.
Alex: Sam Sweeney. It was great that someone from the industry wanted to form an ensemble and, especially with Sam being in Bellowhead. I used to go and see them all time. I wanted to be like them.
It seems that one of the main ways into folk music is through family connections. Is that right?
Sam: I think so. What with the music education system as it is, the only way for people to discover folk music is through their parents. People Sam and Maddie's age now, they would have parents who would have gone to folk clubs when there were four folk clubs in every town. Part of what the ensemble is about is trying to spread the music, so that folk music is everywhere. So if you've got a kid in a school who, for example, has heard Bellowhead and thinks "I really want to play that kind of music", then there's an avenue for them to get better at it, get taught and so on. So yes, most people who play folk music do so because of their family, because it's the only way to discover it. But we want to change that.
What are the aims of the ensemble?
Sam: This folk music thing is brilliant and we're on a mission to spread the word about it far and wide, and get people to know about it and get involved in it. We're also trying to raise the standard of playing folk music in England. The standard of folk music in Ireland, Scotland, Sweden and America is extraordinary. In England I feel like we're a little bit behind for various reasons. So it's about raising the standard of playing and standard of teaching so [Maddie, Alex and other members] will keep doing what they do and help spread it around.
It must be especially difficult now that school budgets are so tight that music lessons are getting cut?
Sam: Yes. Although, having said that, since the Arts Council have backed this project, educational establishments have really got behind this music. There's a folk degree now at Leeds College of Music, for example, and it seems there's been a genuine shift that means a lot of places are now taking folk music seriously, which is really exciting.
Is folk a more accessible kind of music to get into than say, pop, which seems dominated by middle class kids these days?
Maddie: The folk community is a very accepting community and you make a lot friends who encourage you to do more and progress further, whereas in some other areas you can be put off by not knowing where to start. There are lots of ways in via local pubs and sessions, where people want you to join in because they know that folk music is in danger and they want to pass on traditions to new people.
What are your plans for the future?
Maddie: Actually mine's a bit out there. I want to do medicine. And I would ideally like to combine it with music like Jarlath Henderson [folk musician and a doctor]. Music is what I really love, but I've always dreamed of a career in medicine since I was little so I hope to combine the two.
Alex: My plans aren't so thought out. I'm planning to do a degree in music after my gap year. I'd like to modernise folk music in the way it's happened in Scotland and places like that, where it's gone with the times. Bands like Treacherous Orchestra who have really pushed folk forward – I'd like to do something like that.
Sam: We have already done the auditions for the next ensemble. Fingers crossed, we've got a trumpet, which will be new to us – we've never had any brass instruments before – and a harmonica. Never had one of those before either. And nine fiddles. I had no idea when I took this job on that this music would sound like it does. And the young people create this sound. Like there's this new tune which we just made up last week and Alex wrote this smashing riff, which didn't come from a tutor. It came straight out of Alex's brain. So for me it's about trying to enable these young people to get their music out there, and through the guidance of the tutors, they can do their thing. I want these people to love music and do music as much as I have been lucky enough to do it for the last 10 years. And the group has suppressed my expectations – they just did this gig earlier on which was out of this world.
Yes, you played the main stage earlier today. How did it go?
Maddie: It was like all of our dreams come true – main stage Cambridge playing to a massive crowd. This ensemble has literally been life changing and it was the best gig we've ever done. I was just so excited. I just kept smiling to myself.
Alex: It was amazing, one of the best gigs. We had a couple of practice gigs in a shopping mall in Cambridge yesterday, which I found more nerve-racking than this gig.
Sam: It was so amazing to see them do it and smash it. I get so excited. We were all at the side of stage, and I was probably more nervous than them.
And what about the folk festival itself. What do you think of it?
Maddie: I came about five years ago for the first time. It's massive and there are so many amazing acts here.
Sam: I've been here every year for the last seven years. The great thing for me about Cambridge Folk Festival is that it's really broad in the music that they put on, so you can see the most traditional of finger in the ear singers in the club tent and then some big band with synths and drums. To me that's incredible, because at the end of the day it's all music, isn't it?
Like the Big Issue North on Facebook