A group dressed in bright pink cloaks with pig masks and paper mache pig heads are weaving their way through a rainy Salford trading estate. A few of them are wearing pink wigs, one of them is clanging a cymbal and another has a giant inflatable penis sticking out of their crotch. All are unified in a rhythmic "PIG!" chant as they snake through a crowd of hipsters, identify those wearing pink and aim some colourful weirdness in their direction.
Meanwhile, everyone surrounding this strange pink scene looks on with bemused faces and beer cans in hand, unsure what exactly it is that they're seeing. To be honest, we're not quite sure what it is either – but it's this kind of bizarre pageantry that sort of embodies everything that makes Sounds From The Other City so great. This multi-venue all-dayer has become so highly anticipated by locals that it's earned the festive nickname Salford Christmas and perhaps rightly so – it's vibrant, boozy and only comes around once a year.
Taking over Regent Trading Estate and a number of venues along and just off Chapel Street, Sounds From The Other City is part music festival, part bar crawl and part community celebration. In fact, a large part of its charm lies in its ever-changing backdrops, inviting punters inside some of the city's most beloved pubs, venues and unexpected spaces to see something altogether different.
Of course, at its centre is a musical line-up boasting artists on the cusp of breaking through, giving things an electric vibe that only comes with seeing something special before everyone else. Bands, performers, DJs, spoken-word artists and artier things that are harder to define (see the party pigs mentioned above) populate a range of stages, from disused warehouses to St Philip's Church. It's a day that's full of surprises and a dose of the offbeat, with a culture-loving community feel at its core.
All this is guaranteed by festival organisers who have pulled together another day of special stuff. Sadly, what isn't guaranteed is the weather, with the event falling on the bank holiday's only rainy afternoon. Still, a little water isn't going to ruin Salford Christmas, with attendees eagerly cramming into the festival's tiny gig spots to enjoy as much of what's on offer as they can.
With so much to see, it's impossible to catch everything Sounds has planned – but a wander around as many venues as Sunday afternoon and evening will allow all but guarantee you a strong flavour of the day's vibe. At its Regent Trading Estate hub, Leeds indie-rock trio Cowtown pack out a cosy industrial building not long after Glasgow DJ, and SFX artist Shrek 666 delivers some dark beats to a dry-ice-filled Islington Mill basement room. After being absent from the festival for a bit during refurbishment, this iconic Salford building makes a welcome return, complete with the island-themed Mirage bar hosting a range of queer arts events.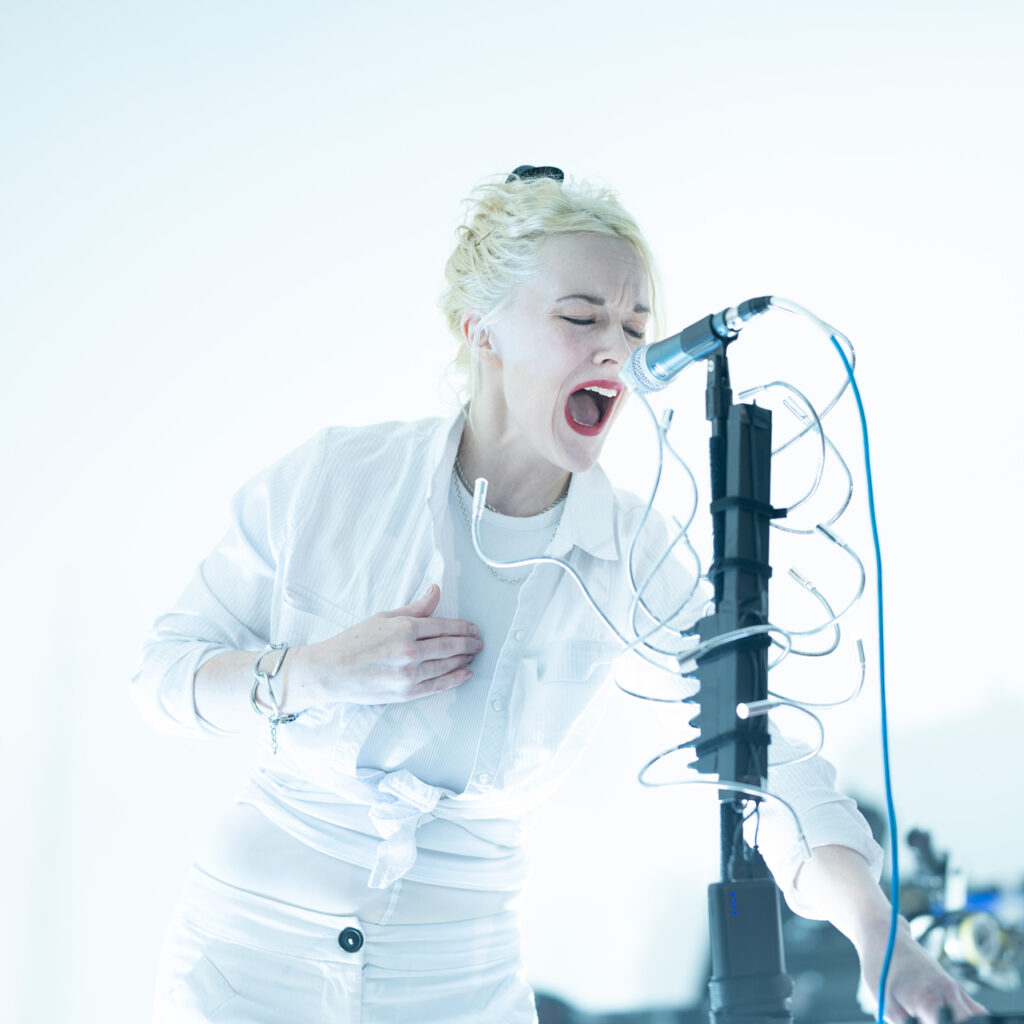 Sheffield's Mr Ben & The Bens fill Salford pub the Old Pint Pot to capacity, with their set happily received by those lucky enough to make it inside. A brief stint in St Philip's Church illustrates the range of spaces on offer, with multi-instrumentalist act Max Fulcrum & The Win filling its alter-set stage. Attendees brave enough to face the rain are treated to an earworm-filled set by Manc DJ Metrodome that's powerful enough to make you forget it's pouring down, while a quick pit-stop at Salford's New Oxford pub finds its cosy backroom once again transformed into the city's tiniest rave.
Those after something easier on the eyes find exactly that at FiveFourStudios. This Salford-based photography space is one of the newer addition to Sounds' venue roster and offers a special backdrop for catching bands. Tonight, its white infinity-cove walls, which are usually used for photo shoots, are brought to life with projections, animations and trippy visuals, while the likes of garage rockers University and Brit electro-pop act PVA draw some of the day's biggest crowds. After a quick swing by FiveFour's swanky in-house cocktail bar, it's back over to St Philip's Church to wrap up the day with sets from South London trio Honeyglaze and an encore performance from Tapir! that somehow makes an airy space feel intimate.
The amps may be off but the action continues long into the night for those in for the long haul, with afterparties at the White Hotel and other Salford spaces. Despite the dodgy weather, 2023's festival proves once again that Sounds From The Other City is indeed a key date in the diaries of Northern music fans and while at times it may be hard to define, its Salford Christmas moniker is well-earned.
Like the Big Issue North on Facebook