A lot has changed since Blink 182 last visited Manchester. Technically, their last headline show was an outdoor gig at Castlefield Bowl in July 2017, with bassist Mark Hoppus and drummer Travis Barker joined by Alkaline Trio's Matt Skiba taking custody of the band's guitars while original founding member Tom DeLonge chased UFOs.
This line-up change was a final straw move. DeLonge originally left the band in 2005 after a bubbling rift emanating from his side-project Box Car Racer with Barker (but not Hoppus) reached boiling point. Anyone at their moody 2004 Manchester Arena show in support of their 2003 self-titled record would've noticed that something was up. Not long afterwards, the wheels of this pop-punk powerhouse well and truly fell off.
An airline tragedy that nearly killed Barker inspired DeLonge to return to Blink 182 in late 2008, but the reunion was short-lived. By 2015, he was out again, busy exposing alien cover-ups and making new music with his other band, Angels and Airwaves. It'd take another near-death experience to lure him back again, this time following Hoppus's recent brush with cancer.
Cut to 2023 and for the first time in a long time, Blink 182 finally feels like it's on solid ground. After announcing a world tour that sold out almost instantly, the band finally make it back to Manchester with renewed energy, a fixed feel and an outlook on past mistakes that only maturity can bring – which is odd for a band that makes a living from making jokes about farts and boners.
This restorative feel spills over into tonight's crowd, the first of two black-tee-wearing masses that'll fill the AO Arena across two sold-out shows. For many in attendance, this band played a formative part of their youth, with the internal chaos they experienced as a band likely soundtracking any number of personal hurdles fans will have encountered on their own road to adulthood. Many of those same pop-punk kids who saw the band break down almost 20 years ago are now pop-punk adults with kids of their own, many of whom are with them tonight.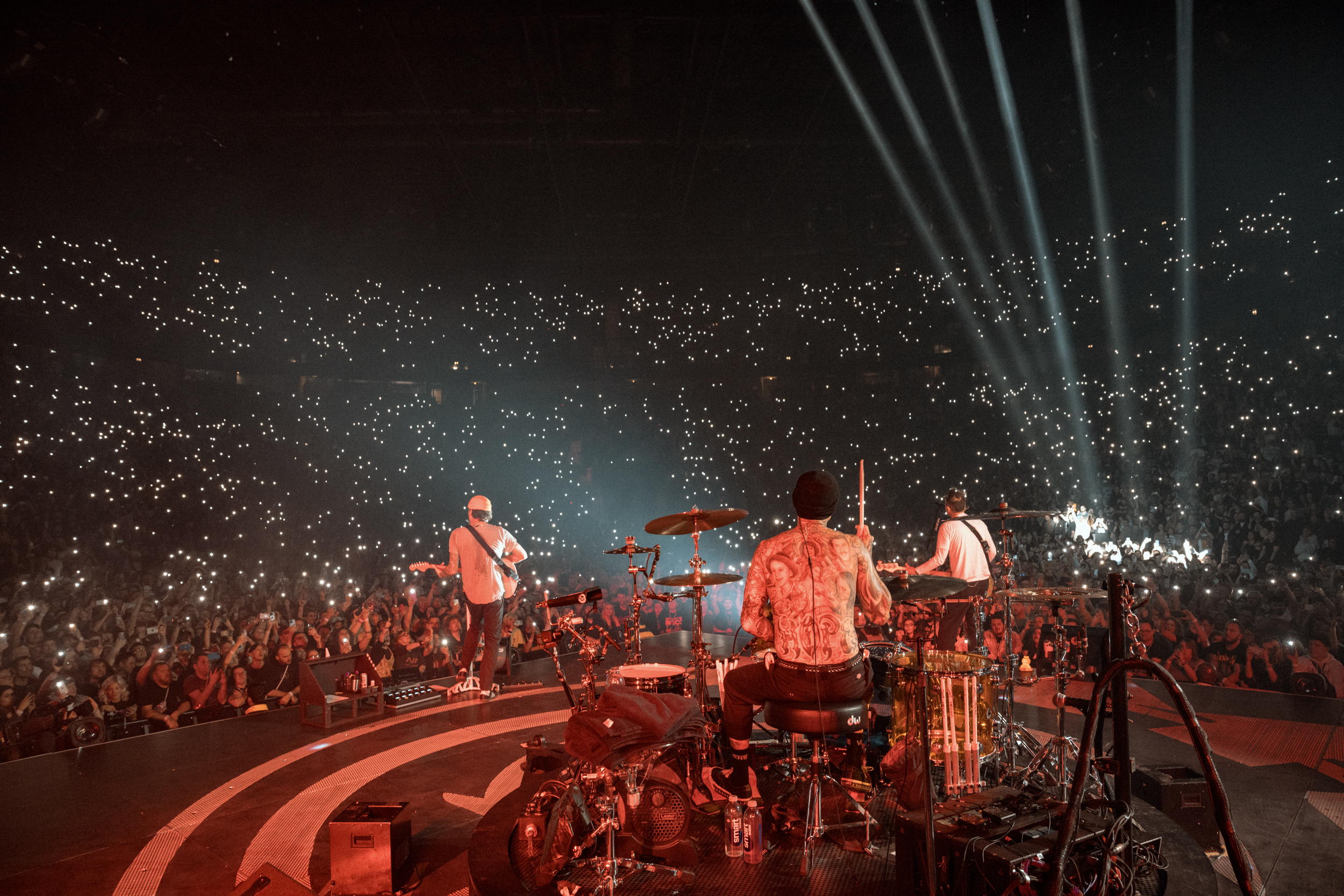 These warm nostalgic vibes are mirrored by Hoppus, DeLonge and Barker, who each seem equally thrilled at where they find themselves and eager to reward fans for sticking with them. During their one hour 45-minute set, the trio cram as many hits into their show as possible, spanning all corners of their back catalogue, including 2017's DeLonge-less California record and a fair few sex jokes to boot.
Take Off Your Pants and Jacket tracks like "Anthem Part 2" and "The Rock Show" take a bulk of tonight's crowd back to high school, while sucker-punch, expletive-filled songs like "Family Reunion" and "Happy Holidays, You Bastard" prove that the band may be pushing 50, but their humour hasn't aged a day.
Slightly deeper cuts from 1999's Enema of the State like "Dysentery Gary", "Dumpweed" and "Aliens Exist" make a welcome appearance, while songs from their self-titled release delight a generation who grew up with that album as their defining Blink record – as proven by the audience booming Tom's heavily-memed "Where are you?" line back to him during "I Miss You."
As you might expect, Enema of the State heavy hitters "All The Small Things" and "What's My Age Again" and Dude Ranch earworm "Dammit" are saved until last. However, it's their one-song encore of emotional new track "One More Time" that sees audiences off into the night. For so-called "elder emos" and those revelling in the chance to temporarily relive their youth, this track feels oddly apt and tonight's show wholly therapeutic. The same can be said for the band – one that finally appears to have found its old self once more.
Images: Clemente Ruiz
Like the Big Issue North on Facebook