A ten-day event in July is bringing artists from around the world to Liverpool. Now in its 20th year, Liverpool Arab Arts Festival hosts a cultural programme of music, visual art, film, performance, literature and workshops across multiple venues, each centring on 2022's theme of language and translation. As ever, a key concern of the event is connecting communities, schools and colleges by promoting learning and curiosity via the arts.
One of the most eye-catching events on offer is Curfew, a dance production presented collaboratively by London's Hawiyya Dance Company and El-Funoun Palestinian Dance Troupe. Jamila Boughelaf is working as producer for the performance, and also appearing as a dancer.
"Members of Hawiyya travelled to take part in the Palestinian International Festival in 2017 and that's where we met with El-Funoun," she says, explaining how the project took shape.
"We started these conversations looking at how, no matter the reasons behind news and no matter how it's used, it always affects how a person feels. We wanted to look at what people did with that news and how they used it to engage and, to some extent, make the world a better place."
Through dance, Curfew closely examines a world that is assailed by constant news, surveillance and manipulation. Naturally, an element of the work scrutinises the Palestinian struggle, something Boughelaf describes as having become, "almost normalised as it has been going on so long, it's so far away from the West and it's difficult for people to engage with because, somehow, this moment in history has become almost taboo to talk about".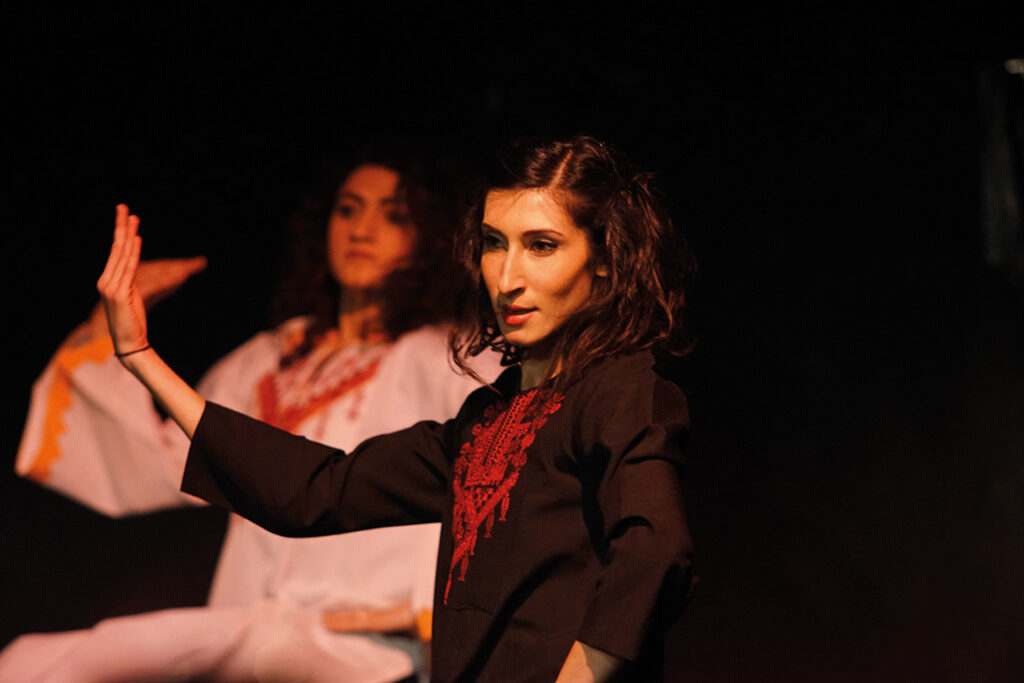 There is a universality to Curfew though, as the performance considers how, paradoxically, the more news we are assaulted with the easier it becomes to ignore. The 24-hour rolling news channels began bombarding our senses some years ago while the internet in general – and social media in particular – has ramped up the relentlessness.
The work has previously been performed in both London and Ramallah and was well received in both locations. Boughelaf explains how Curfew is a fusion of contemporary dance and the traditional Middle Eastern Dabke style, and is a work that is constantly developing, the two forms of dance talking differently to different audiences.
"Dance, like many art forms, is good at helping people understand what's going on as it's much more about expressing thoughts and feelings than the a, b, c which news examines. It's about the emotional attachment that comes with that and how to share it," she says.
"We're exploring how news is consumed and asking; 'What are you doing next? Are you creating change?' And what we really want is for each individual who sees Curfew to really start reflecting upon ways to re-engage with the news around them.
"The really interesting thing about dance is how different elements may affect different people. We don't believe in dance for dance's sake, or art for art's sake. Our art needs to be driven by a key message, one that contributes to society and culture in a positive way. We don't want to share an answer – we want to share feelings and emotions."
Liverpool Arab Arts Festival runs 7-17 July across various venues (arabartsfestival.com)
Like the Big Issue North on Facebook