Yorkshire-based artist Gail Dooley is the third to have her work displayed on the Liverpool Plinth, a temporary sculpture site. Showcasing a sculpture for 12 months, the successful work is submitted by open call and chosen by a panel. The project was set up by Liverpool BID Company working with city gallery and art organisation Dot-art and Liverpool Parish Church. She explains the inspiration behind Tidal Shame.
The idea for Tidal Shame developed two years ago. Much of my work is inspired by birds. In 2007, I created a work called Albatross, a bird that has fascinated me since I was a child. The albatross is described as a "flagship species for conservation" but they are becoming critically endangered. I originally collected the beach rubbish used in Tidal Shame for that earlier work. A few years later I discovered it in my workshop. As I tried to pull all the rubbish apart, I imagined a creature entangled in it and eventually the idea of a trapped diving bird evolved.
The work itself features a ceramic gannet, a seabird common in Liverpool, caught in sea plastic and detritus. In my original submission for the Liverpool Plinth, I proposed collecting this authentic waste from the beaches in Merseyside. Lockdown made this impossible, but a beachcombers group in Hightown were able to help and supplied several bags of waste. It's an interesting thought that the sea plastic attached to the statue now on the Liverpool Plinth may have been dropped along the Merseyside coast during one of those sunny days when the beaches were busy during lockdown.
Public art is such an important way of communicating ideas with people
To install the work on the Plinth itself I travelled to Liverpool. Working with Castle Fine Arts it took several hours to attach the sea plastic that cascades along the front of the sculpture, before adding the ceramic gannet. Several people walked past to comment on the work and ask what I was doing. Public art is such an important way of communicating ideas with people. The Liverpool Plinth itself is open to submissions from artists working across the north of England. Like the Fourth Plinth in Trafalgar Square, it's an important visible site for artwork and ideas in the UK.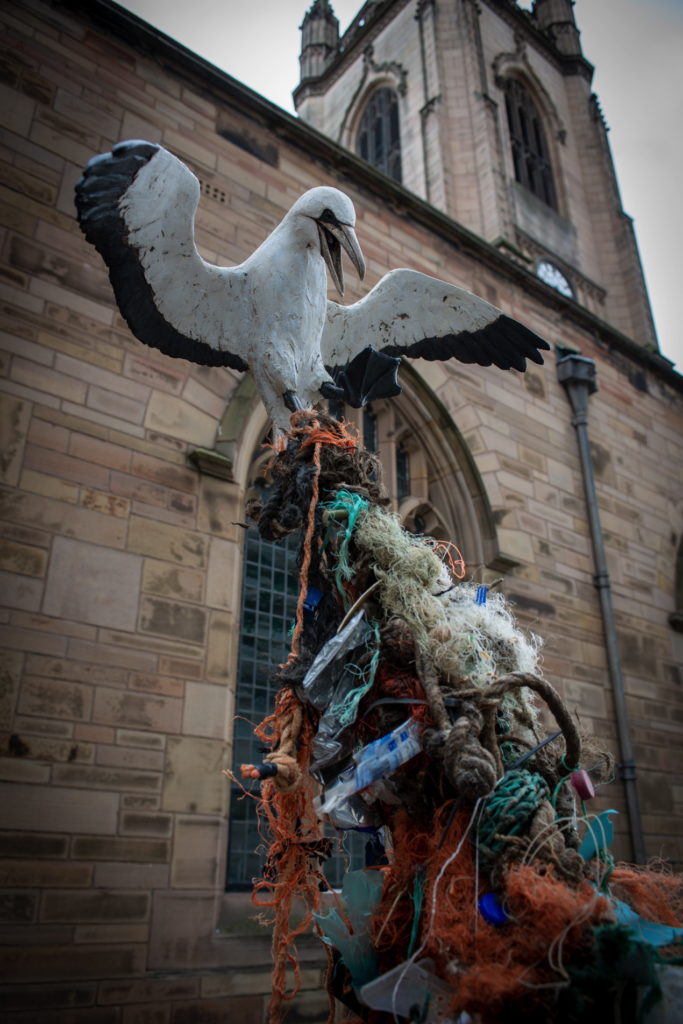 I hope when people see the work itself it encourages them to reflect on the impact of waste on wildlife, especially sea birds. The Plinth looks out across Liverpool's Unesco World Heritage waterfront, and along from that stretches the coastline across the Wirral Peninsula and along the coast to Sefton and Lancashire. All of those coastlines and waterways are home to wildlife, including sea birds, and their existence is threatened by the waste we throw away on a daily basis.
We live on a beautiful planet and we humans are trashing it. Like most people I feel really hopeless when faced with this. Tidal Shame is my response and hopefully, if people see it and are moved, they might also be inspired to do something, whatever that is.
Like the Big Issue North on Facebook