A company that has had links to a recently disqualified director has been accused of failing to make pension payments for its workers.
Staff at Manchester tech firm Dreamr – which relaunched last year as Cuhu – and associated company Neon have been warned by their pension providers that payments have been missed, despite deductions appearing on their payslips. Dreamr and Cuhu have been reported to the Pensions Regulator. 
Employees of both companies have told Big Issue North how they are missing payments dating back several years. One former Dreamr staff member is missing nine payments and has received six warning emails from pension provider Nest, flagging up the problem. 
Another Cuhu employee received a letter from Nest, dated February 2020, which warned: "We have reported Cuhu Ltd to the Pensions Regulator… We've done this because after several reminders [they] either haven't paid contributions to Nest on time or they failed to notify us that contributions weren't due to be paid. They breached their legal duty as an employer."
Pension provider Scottish Widows wrote to a worker in the Neon pension scheme in January 2020, warning of three missing payments from last year.
Since 2012, all employers have been required to automatically enrol eligible staff into a company retirement plan and make minimum contributions into the pension on their behalf. The law requires that when contributions are deducted from employees' wages, they should be paid into their pension schemes no later than the 22nd day of the following month.
There are occasions when firms can choose to delay working out who to put into a pension scheme for up to three months – known as postponement. But bosses must write to each worker individually to explain what is happening and how automatic enrolment applies to them. 
Trade creditors
Dreamr began as the trading name of a previous business, Redfishmedia, which launched in 2014 and was dissolved three years later. It was registered as a separate entity at Companies House in June 2017 – three months before Redfishmedia's liquidation.
Their founder Mylo Kaye – who officially stepped back from Dreamr in January 2018 – was recently disqualified from being a company director for three years for his conduct at Redfishmedia. 
By the time Redfishmedia closed, it owed HMRC £185,000 in unpaid VAT, National Insurance and PAYE contributions – with a further £13,000 owed to trade creditors, including £2,700 to Manchester City Council for business rates.
Insolvency Service documents show Kaye caused the firm "to trade to the detriment of HMRC from at least 7 April 2016 to the date of liquidation, 14 September 2017."
During that period, the amounts owed to trade creditors increased by £377, while the amounts due to HMRC increased by £180,331, the documents add. 
Just days before Redfishmedia's closure, Kaye appeared in a Manchester Evening News article, pledging that Dreamr would donate £1 million worth of support to local tech start-ups. The firm was on its way to reaching £1 million in turnover, the story added. 
Meanwhile one Dreamr employee's pension fund received no payments until April 2018 – despite them transferring to the new firm from Redfishmedia in September 2017. They were enrolled in the new Dreamr pension scheme in February 2018.    
Kaye – who says he spent 12 months living in a homeless hostel as a young man – had a high profile in the local business scene. His story of overcoming homelessness and going on to set up a successful digital agency won him media coverage and accolades – including Manchester City Council's Business in the Community award in 2017, given to him at a time when Redfishmedia owed business rates. 
Skills development organisation JCI UK has stripped Kaye of an award following his disqualification. He had been honoured as one of its Ten Outstanding Young Persons in 2018 based on a written application.  
The 33-year-old was also known for his charity work. He mentored aspiring entrepreneurs and was a Booth Centre trustee for two years – stepping down in 2019 to focus on his own charity, Pledge, which offers practical help such as clothes and bus passes to people in poverty.
Following the Manchester Arena bomb attack in May 2017, he launched a crowdfunding appeal to help those affected, raising more than £7,300 within days – but came in for criticism on social media for taking over a year to hand over the money.
Founding director
Companies House lists separate entries for Mylo Kaye, Mylo Russell Kaye, Mylo Mason Russell Kaye, Myles Kaye, Mm RKaye, Mmr Kaye and Miles Kaye. The names are associated with the firms Redfishmedia, Mylo Kaye Manchester MKM, Atominx (UK), Dreamr, Dreamr Ventures, TTBG, Bamboo Creative Manchester and Your Buzz. According to Companies House records, Myles Kaye stepped down as director of TTBG in January 2012, and Mm RKaye was appointed as director four months later, in May.   
Kaye resigned as head of Dreamr in January 2018 and was replaced as director and CEO by long-term business partner Jack Mason. The pair had run other businesses together prior to Redfishmedia, of which Mason had served as director from May 2015 to February 2016 and for another fortnight in September 2016.
Along with Kaye, Mason had been a founding director of Your Buzz, incorporated in October 2010 and later dissolved. Other now-dissolved companies of which they were both listed as directors at Companies House are TTBG, Bamboo Creative Manchester and Atominx (UK).
After Kaye stepped down as Dreamr boss, staff recall him frequently working from the office.
Dreamr employees remember 2018 being challenging. By December the team had grown from around four to 12 people and a there was a sense of cautious optimism for the year ahead. 
Then, when their 5 January payday arrived, workers received a message to say they would be paid late. One employee told Big Issue North they quit their job as a result.  
Fresh investment
Four months later, in May 2019, Dreamr filed for insolvency, entering a company voluntary arrangement (CVA) to repay almost £248,000 owed to HMRC. It has since relaunched as Cuhu – registered as a separate business at Companies House in June 2019 and with some Dreamr staff transferred across to the new agency. 
Following fresh investment and a series of acquisitions, Cuhu now sits within a group, Inc & Co, incorporated in June 2019, which is headed by Mason and also includes digital marketing agency Neon, previously known as Fast Web Media. Payroll and human resources are handled at group level. Last month, the group acquired Laundrapp, an on-demand laundry service.
Cuhu, Created by Neon and Inc & Co are all registered at Kemp House, 160 City Road in London. 
When the group launched last year, the Dreamr team moved into the Fast Web Media offices at 41 Spring Gardens, Manchester, as did Kaye. He rented a desk there for Pledge, which became the beneficiary of Inc & Co's staff social responsibility programme, with employees of Cuhu and Neon encouraged to raise funds for the charity and volunteer their time. He also helped run the office – helping HR set up an e-signature platform, chasing rent on behalf of Neon and using an Inc & Co email address. 
Some days developers were unable to start work because key software subscriptions had not been paid for. In September, a Fast Web Media worker was paid late. 
'Digital strategy'
Kaye told Big Issue North he chose to undertake the disqualification as a director – and said Redfishmedia going bust had started him on the journey to help others in the community. But directors who are warned that the Insolvency Service intends to start action against them can opt to give a "disqualification undertaking" – essentially volunteering to disqualify themselves and ending all court action. This fast-track approach allows people to admit they acted wrongly and receive a lower penalty, without going to court. 
Disqualification prevents someone from being able to sit on the board of a charity as well as banning them from running or being a director of a company.  
"Since 2014, I have been focused on doing good and repaying my efforts back to society and trying to do my best to help others," said Kaye.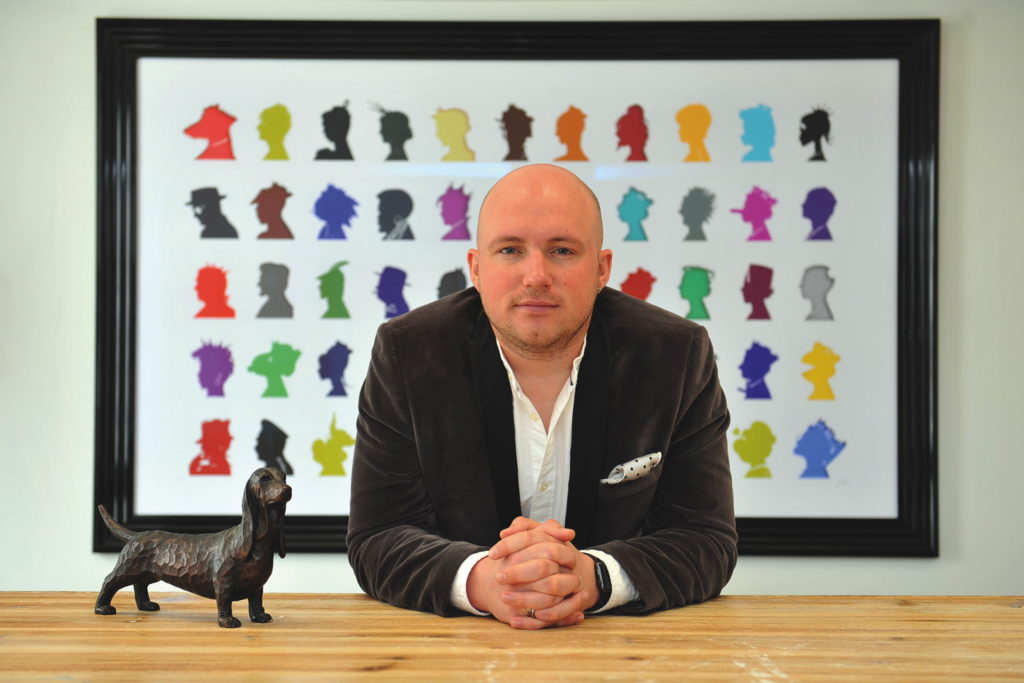 "I voluntarily agreed to the disqualification for a company I ran over six years ago. Since then, I have spent most of my time helping several different charities in homelessness reduction and digital strategy. 
"I have run multiple businesses over the years – some have done well, some have not. I'm now paying the price for one that wasn't profitable. I'm not going to go into detail for every business decision I made over the years."
Jack Mason, director of Dreamr, Cuhu and Neon and CEO of Inc & Co, said: "I need to make it perfectly clear that Mylo Kaye is not, and will never be a director or shareholder of Inc & Co. Mylo has not, and will not, have any influence in Inc & Co. 
"Mylo supported Dreamr on a non-paid basis with company handover during the March-April period of 2018. He rented one desk for his charity Pledge from Fast Web Media, not Inc & Co. Inc & Co have moved offices and Mylo and Pledge do not have any desk space within our office.
"There are no employees within Inc & Co that have pension payments outstanding." 
A spokesman for the Pensions Regulator said: "We do not usually comment on individual schemes or employers. Pension schemes have a responsibility to alert [the regulator] to any missed employer contributions and staff who are concerned they are not receiving the pensions payments they are due should alert us through our whistleblowing service. Where employers fail to make the correct pensions contributions for their staff, we will take action including issuing financial penalty."
A spokeswoman for Nest added: "At Nest, we have a process for reporting employers who do not make pension contributions on time and we follow the same procedure regarding member payments for every employer using Nest. This involves four notifications over a 90-day period before reporting them to the regulator. Making pension contributions is a legal requirement and we are committed to making sure employers are compliant and members receive the contributions in their accounts that they have worked to earn."
Like the Big Issue North on Facebook