We would like to congratulate Manchester Victoria vendor, Stefan, who recently completed the Greater Manchester Marathon.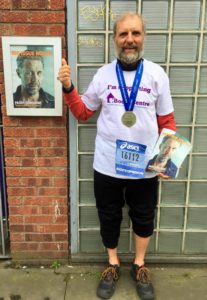 Stefan raised funds for the Booth Centre and completed the course in 03:32:57. This meant that he finished 66th in his category!
But Stefan isn't stopping there. On May 20th, he will participate in the Great Manchester Run to raise funds for Big Issue North Trust!
Stefan explains a little about his latest sporting venture, "The marathon in Manchester was one of my best results. When I ran a marathon last year in Bucharest, I finished in 3 hours, and 45 minutes. So 03:32:57 is a very good time for me!"
"I am looking forward to the upcoming race and am very happy to fundraise for Big Issue North, as I am a vendor and they have given me work."
"On May 20th, I hope for another good result!"
Best of luck Stefan, we're all cheering for you!
If you would like to help Stefan hit the fundraising target to support the work of Big Issue North, please donate here.
If you have been inspired by Stefan's efforts, and would like to see how you can make a difference to the lives of Big Issue North vendors, please click here.
Like the Big Issue North on Facebook