Jeff Goldblum has become the latest Hollywood figure to speak out against movie mogul Harvey Weinstein's alleged sexual abuse.
In Big Issue North's cover story on 30 October, Goldblum, star of new Marvel film Thor: Ragnarok, says the allegations about Weinstein are "shocking and very disturbing, and infuriating and sobering".
Goldblum, who plays the Grandmaster in the Thor movie, has not commented on the scandal surrounding the producer and former studio executive before.
He joins George Clooney, Jennifer Jason Leigh and Matt Damon as the latest film stars to have condemned Weinstein, who has denied claims that he raped and sexually assaulted women over decades.
Goldblum, who never worked with Weinstein, tells Big Issue North: "The abuse that's had to be endured by women over the centuries and in so many ways is so intolerable and ugly and unacceptable. More than 40 women have now come forward with complaints against him.
"Hopefully we're beginning to turn a page into a new time and place where that just can't be allowed to happen and women are fully empowered with every bit of their innate courage and gloriousness."
Goldblum, whose distinctive and natural style of acting has brought him starring roles in films ranging from The Big Chill (1983) to The Fly (1986) and Jurassic Park (1993), plays the Grandmaster in Thor: Ragnarok, opposite Chris Hemsworth, who reprises his role as the God of Thunder.
The Grandmaster is the oddball but dangerous ruler of Sakaar – a distant planet built on chaos and indulgence – and controls a gladiatorial contest in which Thor and other powerful beings from throughout the cosmos face off in deadly combat.
When Thor is pitted against his former ally and fellow Avenger the Incredible Hulk, the pair are reunited.
Thor: Ragnarok was directed by Taika Waititi, new to the Marvel universe. The New Zealander, who wrote the initial screenplay for Disney hit animation Moana, is best known for his indie hits including What We Do in the Shadows and Hunt for the Wilderpeople.
Goldblum tells Big Issue North Waititi managed to bring his independent spirit to Ragnarok.
"They know what they're doing over there at Marvel – they're just Marvel-ous. They are so confident and effective at making big, epic, huge production movies that they go smoothly. But they want to make good movies. They want to make popular movies but I really think they have the idea and the ambition to make well-done movies of quality.
"Then they have the idea to get someone like Taika Waititi, who's just a wonderful director, a brilliant director who's done these movies that are all improvised. When he first approached me for this he said: 'Yeah, we're going to improvise – a lot.'"
Goldblum also reveals what it was like to become a father for the first time at 63, how he loves playing jazz piano – and how he was nearly but not quite reunited with his old friend Sam Neill on the Thor set but had to settle for a "special artifact" of him instead.
The interview appears in Big Issue North #1207 – out on Monday 30 October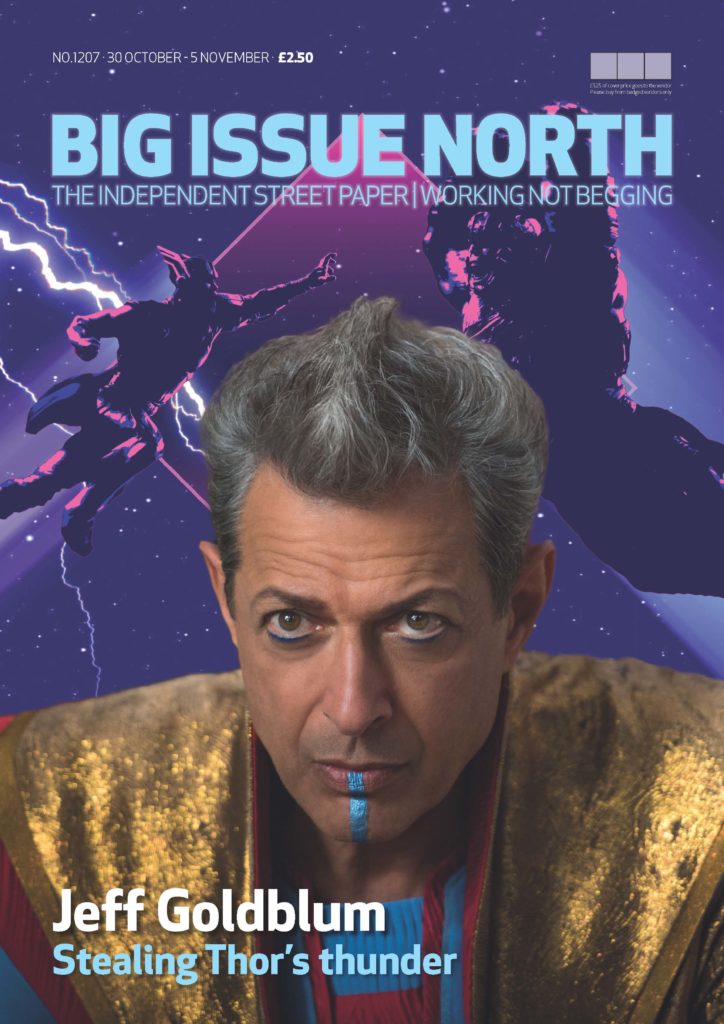 Like the Big Issue North on Facebook